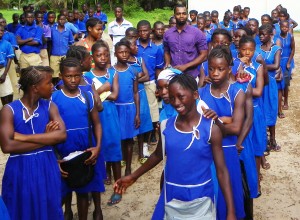 The Sierra Leone Children's Fund primary mission is to alleviate the vicious cycle of chronic poverty in the nation of Sierra Leone through the generation of educational and economic opportunities for the native Sierra Leoneans. Our efforts are conducted with the intent to impact these communities in a significantly progressive and sustainable way. We believe that the areas we have identified, education and economics, will be the most essential areas to village and national development. Although there are many aspects where these two areas overlap, we focus on each separately and approach the problems with unique initiatives.
School Renovation
We intend to repair all the broken desks and chairs, renovate the school buildings and construct one library, where approximately 900 primary school children will have access to reading materials.
School Clinic
40% of our school girls get pregnant before the 11th grade. SLCF plans to create school-based clinic to provide weekly health education classes focus on pregnancy prevention for girls.
Teachers training
Most of the teachers are paid directly by the community and most are not qualified. Therefore, we aim to create a teachers training program by qualified and experience teachers each summer.
Sport
SLCF plans to engage our students in life skills through team sports and mentor-ship — Soccer and other sports bring children together in a fun, collaborative, and competitive way.
For more information on how to get involved, visit http://www.sierraleonechildren.org/get-involved
Website: http://www.sierraleonechildren.org/
Email: info@slchildren.org
Phone: 515-639-0730
Location: P.O. Box  574, Secane, PA 19018
Facebook: https://www.facebook.com/sierraleonechildrenfund